Hair Transplant
Hair loss has become one of the most common problems among people of all ages. The reasons behind hair loss may range from stress, poor circulation, nutritional and hormonal imbalances to some self health annihilating habits like smoking, alcohol dependency. For advanced stages of baldness, hair transplantation is the most natural and effective solution. Myra Skin and Hair Solutions is one of the most trusted hair transplant centers in South Delhi with an excellent success rate. Our dermatologists use FUE method for hair transplantation which utilizes individual follicular units(grafts) for the transplantation process.
This technique of hair transplant is performed in a specialized way called DHI (DIRECT HAIR IMPLANTATION) wherein the hair follicles are extracted and implanted concomitantly. We combine our hair transplant with PRP to create excellent natural results at the best hair transplant clinic in South Delhi, Myra skin & hair solutions.
Hair transplantation is an affordable and high demanding procedure that has augmented the confidence and lifestyle of many individuals. At Myra Skin Clinic, we lead the way in providing amazing natural results with high efficiency in hair transplantation in South Delhi. The science of hair transplantation has advanced all the way through the years from the larger punch grafts to the smaller mini. To offer the gold standards in hair transplantation, we offer the best hair transplant DHI technique for hair restoration. . We also specialize in body hair transplant wherein if required the grafts can be extracted from the beard , chest and other body parts. This is usually required in patients with a poor donor area and in cases where the requirement of the grafts exceeds those available in the occipital area .
This treatment provided at our hair transplant centre in South Delhi yields natural looking results with complete unnoticeability of the procedure. Unlike any other hair loss treatment that focuses on men only, the hair transplantation treatment offered at our clinic can also be availed by women bolstered by a record of success stories.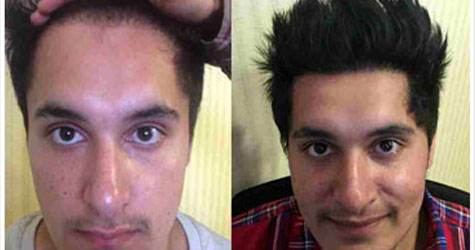 FEW ADVANTAGES OF THIS TREATMENT ARE AS FOLLOW:-
• No incision, no sutures
• Negligible pain & discomfort
• Faster healing
• Natural look
• Direction of hair maintained
• No scarring
• Ability to wear shortly cropped hair
• Permanent cure
WHY CHOOSE MYRA FOR HAIR TRANSPLANTATION?
At Myra Skin Clinic, our highly proficient dermatologist, Dr Sonia is able to achieve world class results with a high survival rate of the grafts. Our dermatologist specialises in hairline designing, crown area, beard hair transplantation and female hair transplantation. It generally takes 6-8 months for the ultimate result to be apparent. Many individuals have noticed change in their aesthetics in just a few months. Our results and patients make us one of the most preferred hair transplant centre in Panchsheel Park Delhi.